Surveillance is crucial in insurance fraud investigations and in confirming testimony in civil litigation. Surveillance is also a key component in domestic and divorce situations to find out if a spouse, husband or wife, fiance, etc. is engaged in cheating or infidelity. Surveillance is also useful in many business investigations, including employee dishonesty and unfair competition.
Need Surveillance on an Injured Person?
We will reply with a confirmation and price quote before proceeding.
Injury Surveillance Service
For legal, domestic and business cases

Includes research of violations, identity of perpetrators

28 years experience in professional surveillance and undercover investigations

State of the art equipment and surveillance vehicles, including infrared night vision, pager cams, body cams, 2800 mm telephoto, high tech communications, etc.

Professional, presentable agents with testimony experience

Thank you for providing me with such outstanding service. I truly appreciate you and your staff for all you've done for me and my family…. I'm totally pleased with the outcome and their findings… Great job!
Gerome S. | Retired | USA

I have used Tristar for years. Their response time and results are unparalleled. They get my highest praise.
Robert Clayton, Attorney | Taylor & Ring, LLP | Los Angeles, CA

Tristar found my birth mothers records the same day. I am very impressed with their professionalism and the services they provide. I will use them again for any of my needs.
Dr. Claudia Barne | Professor | 23 years

Tristar was very helpful in my address search. Kellie Anguiano was very personable and kept me up to date with the search process… Thank you so much for your help!
Emily | DDS Student | 2 years | Los Angeles, CA

Tristar is by far the most reliable and efficient investigator we have ever used.
Nicole Young | Attorney, 14 years | Woodland Hills, CA
Tristar Investigation has been featured in a dozens of publications, everything from print to TV and radio. Bellow you will find Burce Robertson interviewed and discussed on famous publications such as the History Channel, New York Times, CNN and a lot more.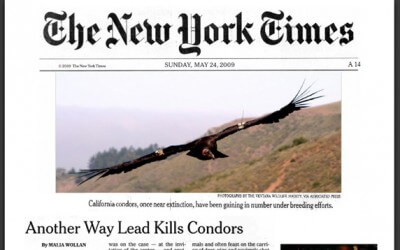 Tristar Investigation founder Bruce Robertson was hired to track down the person who shot two endangered California Condors. In 2009 private detective and Tristar Investigation founder
read more