Bankruptcy and Foreclosure Fraud
Tristar Investigation has decades of experience in tracking down bankruptcy fraud and conducting foreclosure fraud investigations. Bankruptcy fraud occurs when a person or entity files for bankruptcy protection when they are hiding assets that should be liquidated to satisfy their creditors. Foreclosure fraud occurs when fraudulent companies, i.e. con artists, claim they will help you when you are facing foreclosure and instead drive you deeper in debt.
Need to Investigate a Bankruptsy or Foreclosure?
We will reply with a confirmation and price quote before proceeding.
Private Bankruptcy Fraud Investigator
If you are a business or private party that is facing a discharge of funds owed to you in bankruptcy, you need the services of a bankruptcy private investigator who can track down bankruptcy fraud.  The same applies if you an attorney or lawyer representing a creditor in a federal bankruptcy case.
We investigate these cases by conducting research to determine if the filings are accurate and correct.  At the same time we conduct detailed asset investigations locate undeclared and concealed assets that should have been listed in the filing.  We work with attorneys who then intervene in the bankruptcy proceedings to protect your rights.
Foreclosure Fraud Investigator
Fraudulent companies, i.e. con artists, claim they will help you when you are facing foreclosure and instead drive you deeper in debt.  These sketchy companies use a variety of methods to take control of your property and then leverage it further into debt while they reap the proceeds behind your back.
Often these con artists claim they will lower your interest rate by helping you refinance, but the loan never comes through and meanwhile you have signed over your property to them.  Other similar scams involve expensive painting, remodeling or paving and the fine print gives them the ability to foreclose when you can't meet the payments.
At Tristar Investigation we can unmask these con artists, reveal their true identity and track down their assets.  Then we work with attorneys who can sue to go after their assets and we investigate the asset recovery aspect of the case.

Thank you for providing me with such outstanding service. I truly appreciate you and your staff for all you've done for me and my family…. I'm totally pleased with the outcome and their findings… Great job!
Gerome S. | Retired | USA

I have used Tristar for years. Their response time and results are unparalleled. They get my highest praise.
Robert Clayton, Attorney | Taylor & Ring, LLP | Los Angeles, CA

Tristar found my birth mothers records the same day. I am very impressed with their professionalism and the services they provide. I will use them again for any of my needs.
Dr. Claudia Barne | Professor | 23 years

Tristar was very helpful in my address search. Kellie Anguiano was very personable and kept me up to date with the search process… Thank you so much for your help!
Emily | DDS Student | 2 years | Los Angeles, CA

Tristar is by far the most reliable and efficient investigator we have ever used.
Nicole Young | Attorney, 14 years | Woodland Hills, CA
Tristar Investigation has been featured in a dozens of publications, everything from print to TV and radio. Bellow you will find Burce Robertson interviewed and discussed on famous publications such as the History Channel, New York Times, CNN and a lot more.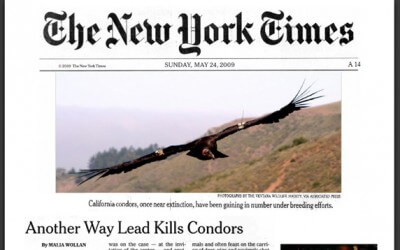 Tristar Investigation founder Bruce Robertson was hired to track down the person who shot two endangered California Condors. In 2009 private detective and Tristar Investigation founder
read more