Catch a Cheating Husband or Wife
Catching a cheating spouse or "significant other" requires the skills of a private investigator. Cheaters and those involved in infidelity expend a great deal of energy keeping their affair hidden. To make things more difficult, the motto of any cheating spouse is "deny, deny, deny!". Read some Common Questions people ask, or the 30 Signs of Infidelity checklist.
Need to Identify a Business or Defendant?
We will reply with a confirmation and price quote before proceeding.
How to Catch a Cheating Spouse
First one has to be aware of the signs of infidelity and determine which ones apply to your situation. Second, you need to analyze the opportunities for being unfaithful. Third, you need to consult with an experienced private investigator to devise the most efficient strategy to catch the cheater in the act. Lastly, you need to assist the infidelity investigator in executing the plan to obtain the evidence.In many cases the cheating person, (husband, wife, boyfriend or girlfriend, etc.) has been lying about the affair for months or years. You may have gotten to the point where you are questioning your own sanity about whether you are imaging it or not. Partnering with a professional investigator for your cheating spouse can bring objectivity and sanity to the process of solving your problem.
How do you go about getting started?
Call Tristar Investigation for a free consultation concerning your specific situation. We work with you to devise the best strategy for success and our private investigators are experienced with infidelity investigations. If you need more background information on what we do and how we do it, refer to our Spousal Surveillance Frequently Asked Questions (FAQ's) page for details. Our toll free line for your consultation is (800) 487-0947. Or you can e-mail us at info@tristarpi.com or get a free price quote.
Frequently Asked Questions
I feel embarrassed about even talking to someone about this.
We get calls every day from people in relationships who suspect their spouse or significant others of cheating. It is nothing to be embarrassed about. What you are seeking is peace of mind about something you are not sure of. It is natural to seek to determine if your suspicions are real or imagined. We invest a tremendous part of ourselves in relationships. It is natural to want to determine the strength and integrity of that relationship.
What if I am wrong?
If there is no evidence the subject is cheating, you will have gained peace of mind about your relationship. Since our investigations are 100% confidential, you will not have risked sacrificing the relationship if you are wrong.
How do you follow someone?
The techniques of tailing someone are an acquired skill. When following someone we are constantly weighing two factors against each other. First we want to stay close enough to make sure we do not loose the subject at a traffic light or in heavy traffic. However we are constantly balancing this against staying so close that we run the risk of being observed by the subject. The art of balancing these two factors in a variety of situations can executed well only by having an experienced investigator working the case. In some cases a second agent is preferable or required which allows us to keep safer distances while not minimizing the chance of loosing the subject.
Will the suspected cheater find out that they are being watched?
Our surveillance investigations for cheating situations are 100% confidential. We do everything necessary to insure the covert nature of the investigation. If we ever perceive that the security of the investigation is threatened, we pull back and with your input reconsider the tactics being deployed.
What evidence will I receive at the conclusion?
The evidence collected in domestic spouse surveillance consists of the videotape of the activities and a surveillance report which details all the activity in writing. Both are submitted to you, or if you wish we can maintain them for you.
30 Signs To Help Spot a Cheating Spouse
A cheating spouse or significant other will tend to exhibit some of the signs of infidelity listed below. Signs of a cheating husband or wife include unavailability at work, increased time away from home or unusual cell phone usage, or other signs of infidelity. If more than a few of the indicators below are present, the next step is to conduct surveillance to confirm your suspicions.
While at Home
There are a few key behavioral patterns to take notice of your spouse while at home.
Sudden increase in time away from home
San Diego County
Decreased sexual interest
Subject is often distracted and day dreaming
Subject is often unavailable at work
Subject attends more work functions alone
Cell phone calls are not returned in timely fashion
Subject leaves house or goes to other rooms to talk on the telephone
Subject uses computer alone and secretly
Subject asks about your schedule more often than usual
Mileage on car is high when only short distance errands are run
Clothes smell of perfume, massage oil residue and sex
Clothes contain makeup or lipstick smudges
Subject gets his laundry done independently
Viagra usage increases
Receipts, Records & Documents
This is a very data driven approach to gather proof, looking at documentaion, reciepts may help uncover some clues.
Credit card bills contain unusual gifts, travel, restaurant and "unspecified" charges
Gas credit cards contain uncommon locations of gas stations
Unexplained payments on bank statements
Subject has more cash on hand without accountability
Cell phone bills contain calls with long duration
Home phone and calling card records contain calls with long duration
Business phone records contain unusual calls
Subject has unexplained receipts or personal effects in wallet
Technology, Cell Phones, Emails
Another effective method of gathering proof, cellphons, emails and other communcation devices are essential in attaining evidence.
Subject has suspicious phone voice-mail messages
Subject has suspicious cell phone numbers stored or dialed
Subject has suspicious text messages
Subject deletes text messages immediately
Internet web browser history list (this is a record of web sites visited)
contains unusual sites
Frequent visits to Internet free e-mail accounts
Uncommon e-mail messages
Uncommon deleted e-mail messages

Thank you for providing me with such outstanding service. I truly appreciate you and your staff for all you've done for me and my family…. I'm totally pleased with the outcome and their findings… Great job!
Gerome S. | Retired | USA

I have used Tristar for years. Their response time and results are unparalleled. They get my highest praise.
Robert Clayton, Attorney | Taylor & Ring, LLP | Los Angeles, CA

Tristar found my birth mothers records the same day. I am very impressed with their professionalism and the services they provide. I will use them again for any of my needs.
Dr. Claudia Barne | Professor | 23 years

Tristar was very helpful in my address search. Kellie Anguiano was very personable and kept me up to date with the search process… Thank you so much for your help!
Emily | DDS Student | 2 years | Los Angeles, CA

Tristar is by far the most reliable and efficient investigator we have ever used.
Nicole Young | Attorney, 14 years | Woodland Hills, CA
Tristar in the news
Tristar Investigation has been featured in a dozens of publications, everything from print to TV and radio. Bellow you will find Burce Robertson interviewed and discussed on famous publications such as the History Channel, New York Times, CNN and a lot more.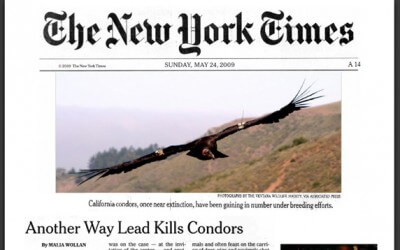 Tristar Investigation founder Bruce Robertson was hired to track down the person who shot two endangered California Condors. In 2009 private detective and Tristar Investigation founder
read more